Per4mance Pledge
You will always be delighted!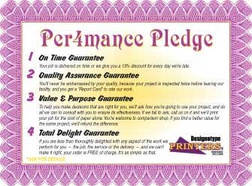 On Time Guarantee: Your project is on time or we give you a 13% discount for every day we're late.
Quality Assurance Guarantee: You'll never be embarrassed by poor quality because your project is inspected twice before leaving our shop. You'll get a Report Card to rate our work.
Value and Purpose Guarantee: To help you make decisions that are right for you, we'll ask how you're going to use your project and do what we can to ensure its effectiveness.
Total Delight Guarantee: If you are less than thoroughly delighted with any aspect of the work we perform for you and we can't make it right, your order is FREE of charge. 
---